Tiger Global Management has arguably turned into one of the biggest, most aggressive names in venture capital. By reinterpreting the classic VC rulebook, and increasingly shifting its investment focus to early-stage startups at an unprecedented rate in 2021, the investment firm is now competing with many of the biggest names in startup investing.
According to Crunchbase, only two VC firms managed to surpass the venture capital prodigy's investment frequency last year, Y Combinator and Techstars—two accelerators focusing on smaller-ticket-sized, seed-stage ventures, each concluding 500+ deals in 2021.
However, in terms of total VC funding value, Tiger Global was undoubtedly at the top. The 313 (reported) startups Tiger invested in in 2021 raised deal volumes north of $67B, eclipsing the activity of Andreessen Horowitz (220 startups worth close to $31.76B in aggregated deal size) and SoftBank (173 startups worth $48.72B) by a significant margin.
Interestingly, Tiger's 2021 startup portfolio included several high-profile targets in the Travel and Mobility Tech arena, among them:
Spinny – an India-based used car reseller that reached unicorn status via a $285M funding round led by Tiger.
Life House – a North American hotel software and operations management platform that raised close to $60M.
Waymo – Google's self-driving car unit, which raised a record-breaking $2.5B from a number of premier venture capital houses, with Tiger being the newest addition to the group of elite VC players.
Has Travel and Mobility Tech become a focus area for Tiger Global?
The three investments listed above might be an indication of a growing interest in Travel and Mobility Tech investments, particularly beyond the backdrop of a travel and mobility landscape that is only now recuperating from the pandemic-induced two-year void.
In terms of the number of Travel and Mobility Tech deals, 2021 was Tiger's most active year since the former private equity specialist entered the VC game.
However, looking at the actual number of Travel and Mobility Tech deals as a portion of Tiger's total VC portfolio over the past three years, we see a slightly different picture. Beyond the backdrop of the hedge fund's overall activity, Travel and Mobility Tech targets make up an extremely small segment.
In fact, the share has ultimately decreased between 2019 and 2021.
For 2021 specifically, both the number of deals involving Travel and Mobility Tech startups (10) and the aggregate deal size of these investments ($4.26B) are marginal compared to Tiger's overall portfolio.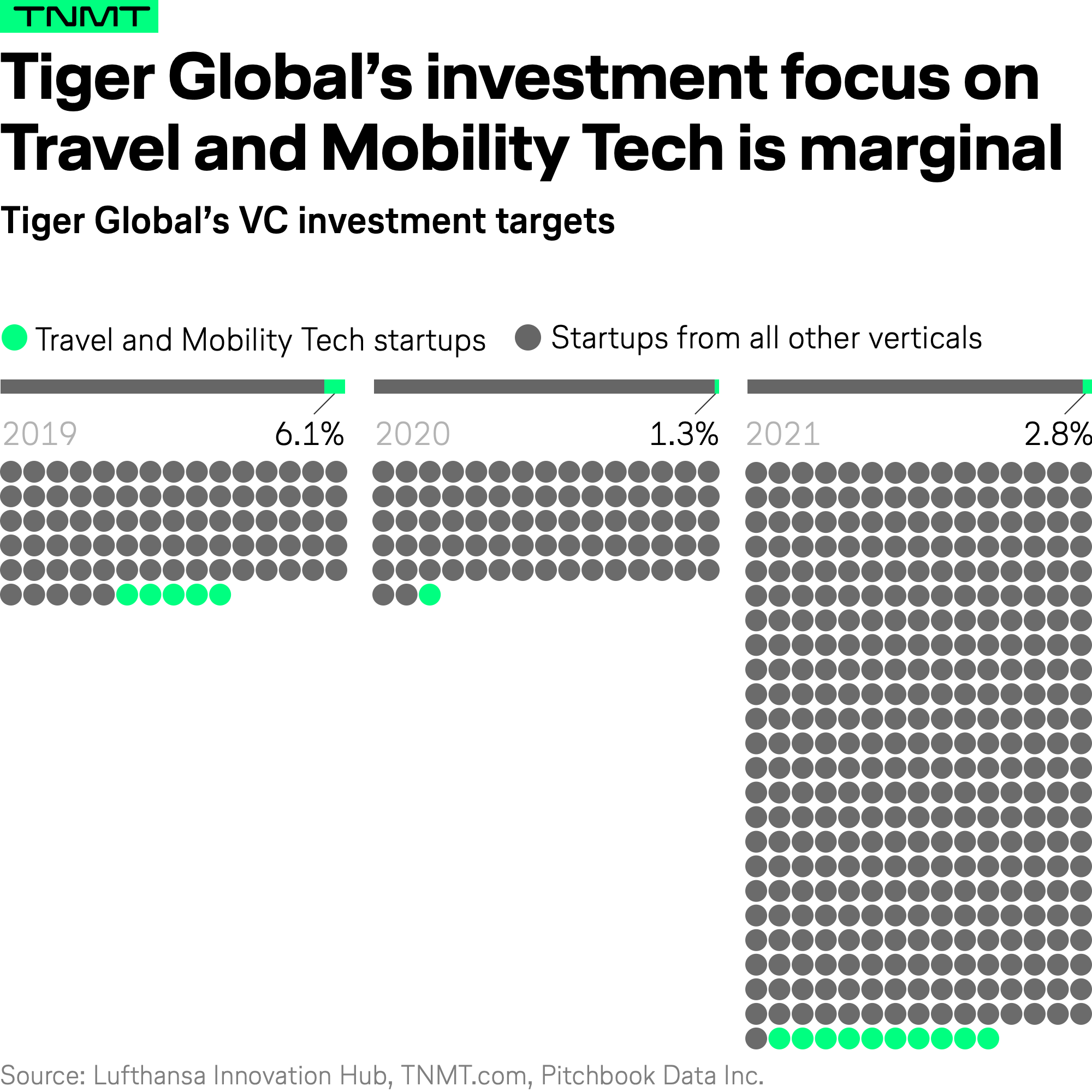 Importantly, a substantial portion of Tiger's 2021 portfolio value in Travel and Mobility Tech went to a single company, Waymo, whose $2.5B funding round accounts for more than 50% of the aggregated deal volume Tiger was involved in when it comes to Travel and Mobility Tech investments.
How does Tiger score against Softbank and other mega-investors?
It's for good reason that Tiger Global is seldom mentioned without listing the full array of Tier 1 VC houses like Andreessen Horowitz, Insight Partners, General Atlantic, and, of course, SoftBank. The latter makes for a particularly interesting comparison—something that has been addressed by media outlets such as The Economist, given the fact that both Tiger and SoftBank have made radical adjustments to their overall investment strategies, which appear to run in parallel.
For instance, both companies have made headlines for how they're ultra-targeting early-stage ventures more than ever before. Similarly, both firms have undergone veritable spending sprees in 2021, increasing their overall portfolio values exponentially—according to our analysis on Pitchbook, Tiger Global by more than 400%, and Softbank by close to 380%.
And the similarities do not end there. Looking back at Travel and Mobility Tech in 2021, Softbank invested a similar number of times. Relating this to the firm's overall deal portfolio last year, SoftBank's 11 travel and mobility deals make up an overall ratio of 5%—about double Tiger's 2.6%, but still marginal.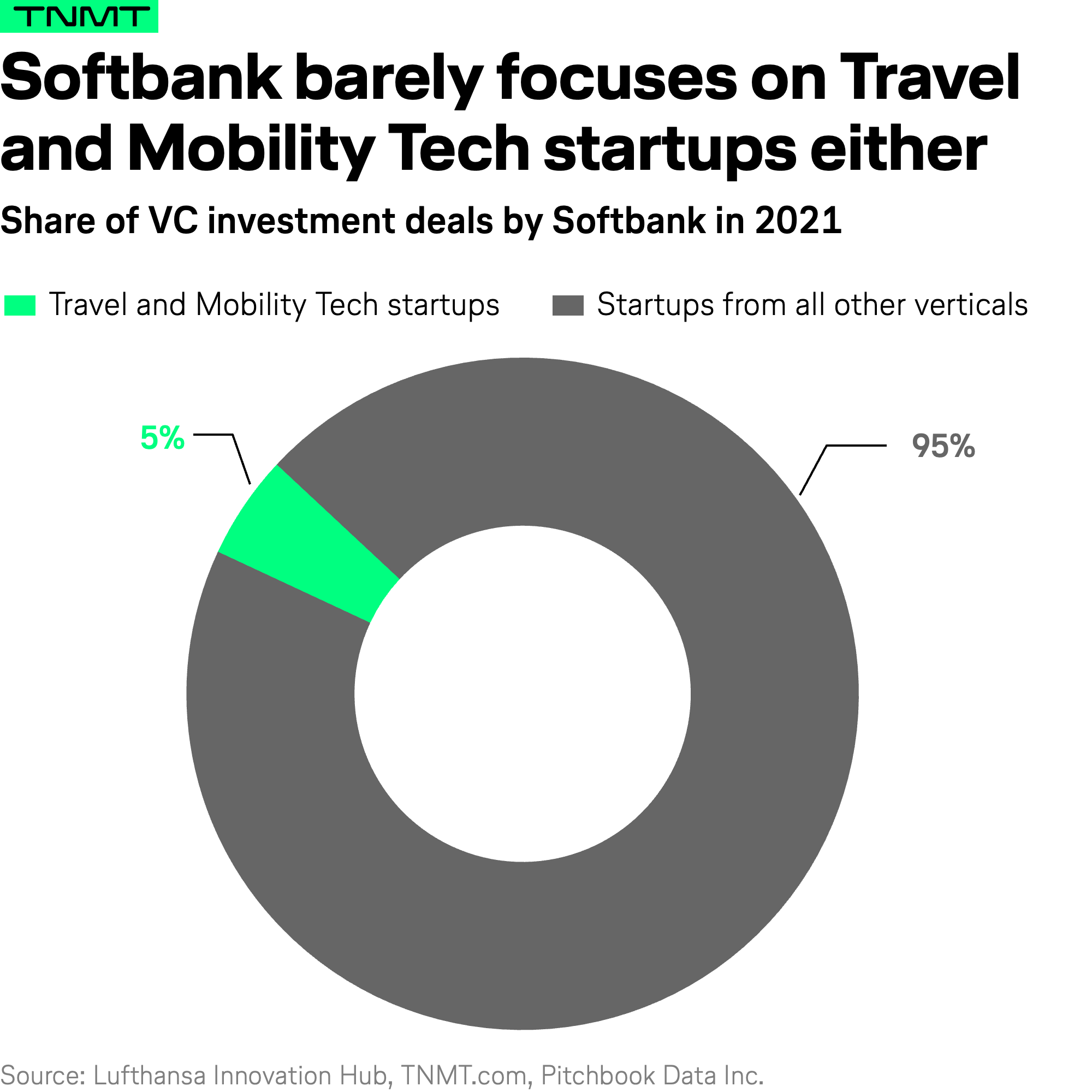 These numbers suggest that Tiger's and Softbank's interest in Travel and Mobility Tech is limited.
Rather than pivoting to Travel and Mobility Tech as one of their primary focus areas, both Tiger Global and Softbank seem to follow a satellite strategy aimed at padding their portfolios with the occasional high-profile players from the realms of accommodation and mobility, whereas their overarching investment strategies are more geared toward industries like ecommerce, healthcare, and fintech.
So is Tiger interested in anything transport-related?
When decoding Tiger Global's investment portfolio in more detail, there is one industry vertical popping up quite regularly—one that doesn't seem too far from passenger-related transport modes (which is our definition of Travel and Mobility Tech), namely, Supply Chain Tech.
Supply Chain Tech refers to companies offering products and services related to moving goods from A to B in the context of ecommerce, food delivery, logistics, cargo transportation, and supply-chain optimization.
While Tiger does not focus on each of these sub-verticals in equal measure, the overall supply chain context seems like a viable interest area. As part of Tiger Global's 2021 "spending spree," the total funding size of Supply Chain Tech deals that Tiger Global was involved in has increased almost fourfold, from $2.63B in 2020 to $11B in 2021.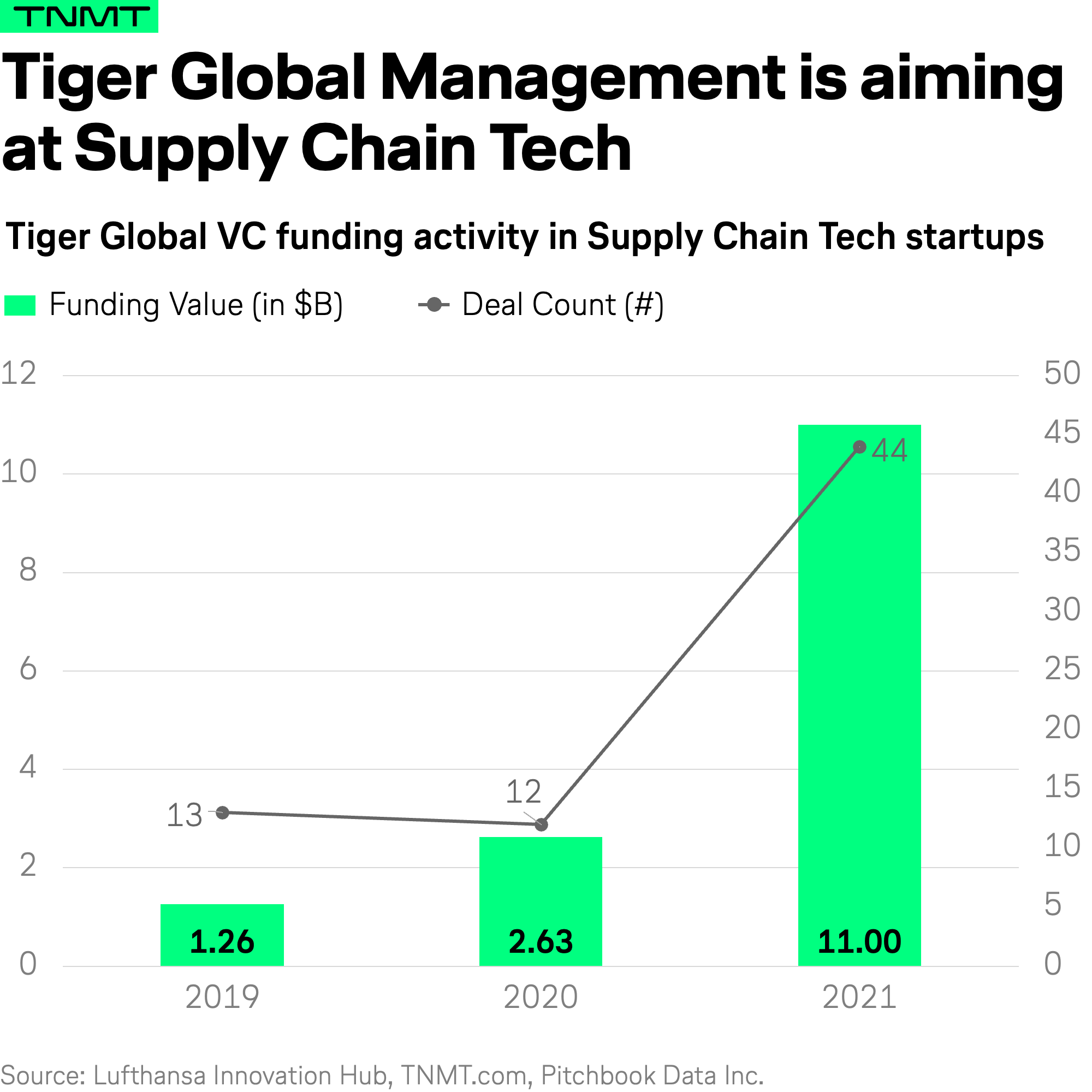 This may seem like a major increase; however, looking at Supply Chain Tech as a ratio of Tiger Global's overall investment portfolio, the total number of deals seems constant, varying between 14% and 15% in 2019 and 2020, and decreasing slightly to 11% in 2021.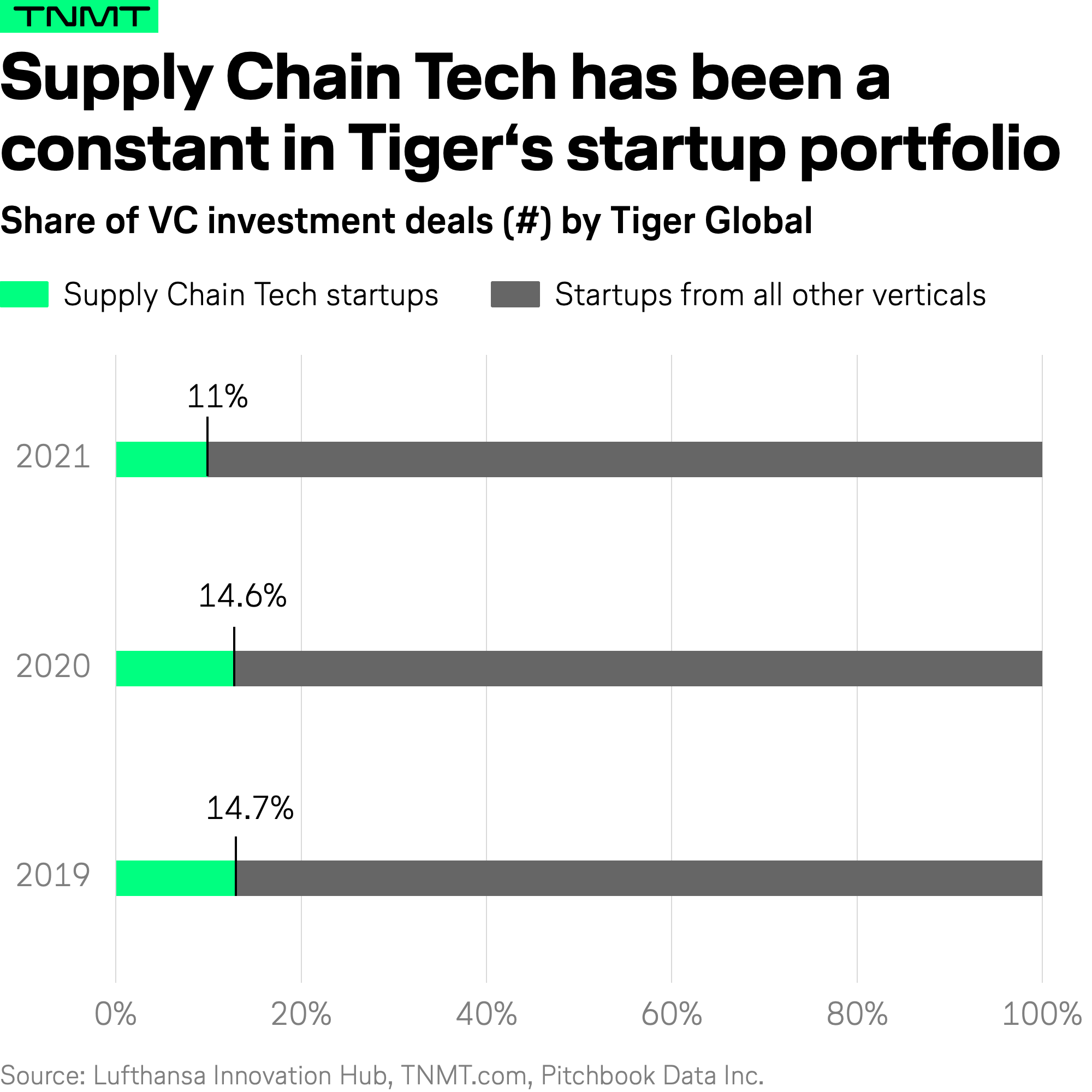 So which gems has Tiger Global been eying in the Supply Chain ecosystem?
Looking at Tiger's investments, the hedge-fund-turned-VC seems to target two specific areas: cargo and freight management, as well as ecommerce. Autonomous delivery and warehouse robotics also show a number of interesting targets, though certainly in smaller amounts.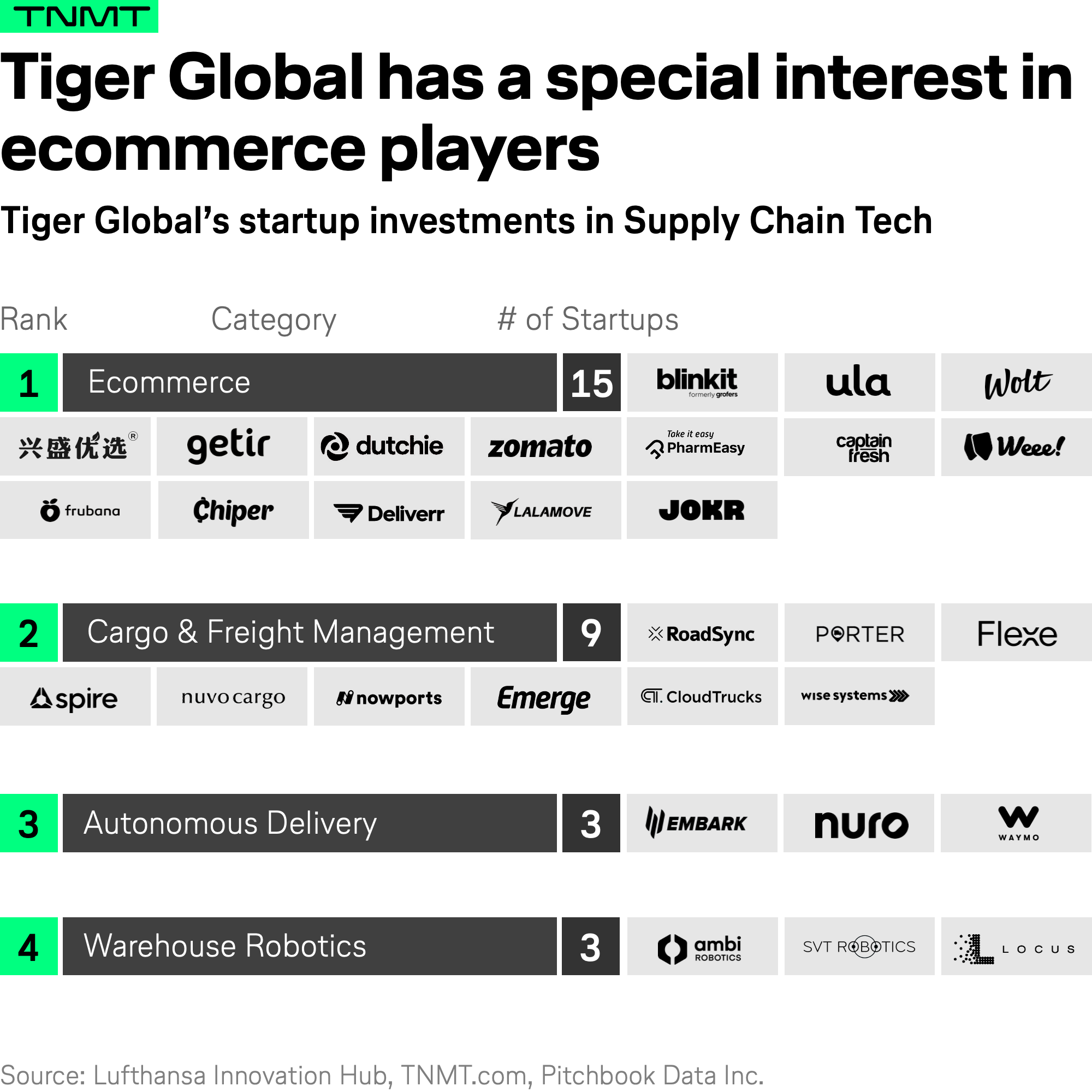 We conclude: Supply Chain Tech is clearly more of a focus for Tiger than Travel and Mobility Tech. However, there are certain similarities in how Tiger approaches both these industry segments—the major similarity being the relevance of a few selected "mega-deals."
For Tiger's Supply Chain Tech investments, two companies stick out the most: Waymo and Lalamove. Both startup giants raised more than a billion euros in 2021 alone. In Travel and Mobility Tech, Spinny was the big outlier: the car trading platform received three rounds of funding in 2021 alone (all backed by Tiger), worth almost $700M.
Let's wrap up
Going back to our original question: Has Tiger Global Management become a relevant investor in the Travel and Mobility Tech ecosystem—one those startup founders can access for new mega-investments going into 2022?
The short answer is no.
However, we do expect a continued commitment to Supply Chain Tech investments. This interest on the side of Tiger Global is certainly a rational one. After all, the big winners of the pandemic were online delivery services and the corresponding supply chain backbone that offered countless opportunities for startups to tap into. It's no wonder that Waymo, which has pivoted quite heavily from passenger to cargo transportation during the pandemic (e.g., to address last-mile delivery), received the single largest funding amount in 2021—along with Nuro, another autonomous mobility provider that made up a significant portion of Tiger Global's portfolio value for Supply Chain Tech in 2021.
As far as Travel and Mobility Tech is concerned, we can expect continued interest in companies that Tiger has backed for several years—specifically, Ola Electric and Life House. There is no reason to believe that Tiger will leave both companies hanging for follow-up investments, given the investment firm's deep pockets and new VC funds.
Other than that, Tiger Global has largely avoided classic travel segments, except for accommodation services like Easol, Life House, Selfbook, and Divvy Homes. The travel avoidance is likely driven by the unsteady recovery of the travel industry, which might not get back to full steam in the months to come. But in any case, a renewed interest in travel would likely manifest in a number of satellite investments in select high-profile players. Hence, early-stage founders from the travel context shouldn't get their hopes up too high.