I have invested unreasonable amounts of time researching the "perfect" choices for a professional work-from-home setup that matches my personal standards. If you can relate to the following points, this might present a good choice for you as well!
My objectives
Increase the quality of my video => professional appearance
Build technical setup that supports my "kind of work" => long (hopefully engaging) presentations
Increase ergonomics
Increase efficiency
Decrease visual clutter (esp. cable-free)
Obviously, I plan to do different "experimental stuff" with this setup in the future, so stay tuned.
My selection criteria
Quality: If you buy cheap, you buy twice!
Brand: High re-selling value
Design: I do not want to clutter my home. I want to live & work in a visually appealing environment => It shouldn't be "too" techy
Future proof
Value 4 money
For context: this setup has been built over 8 weeks and will evolve in the future. Many products are bought second hand. Especially Elgato products can be found on eBay Kleinanzeigen. I call this a hobby now.
Here is the final result. Find all product details below.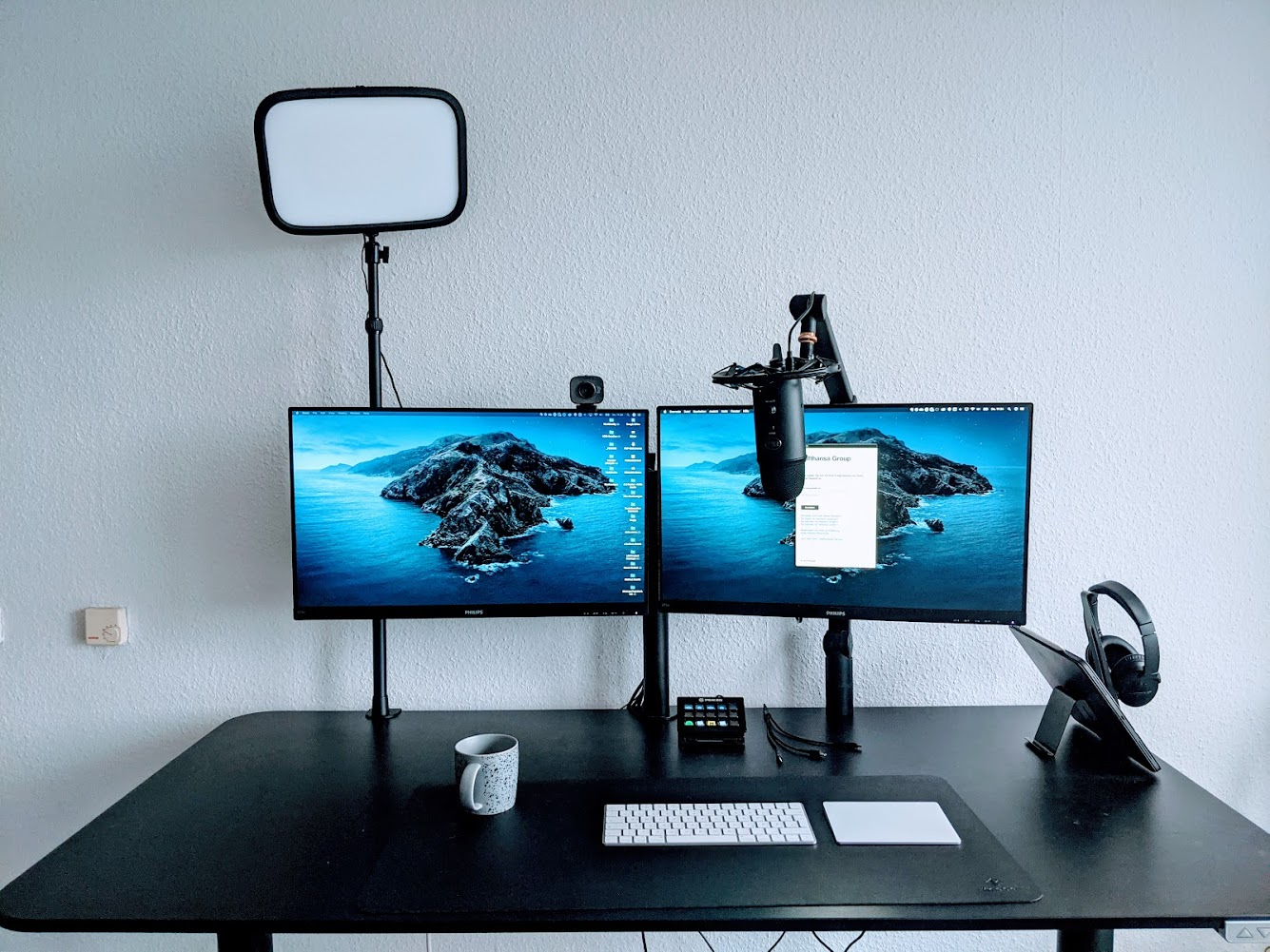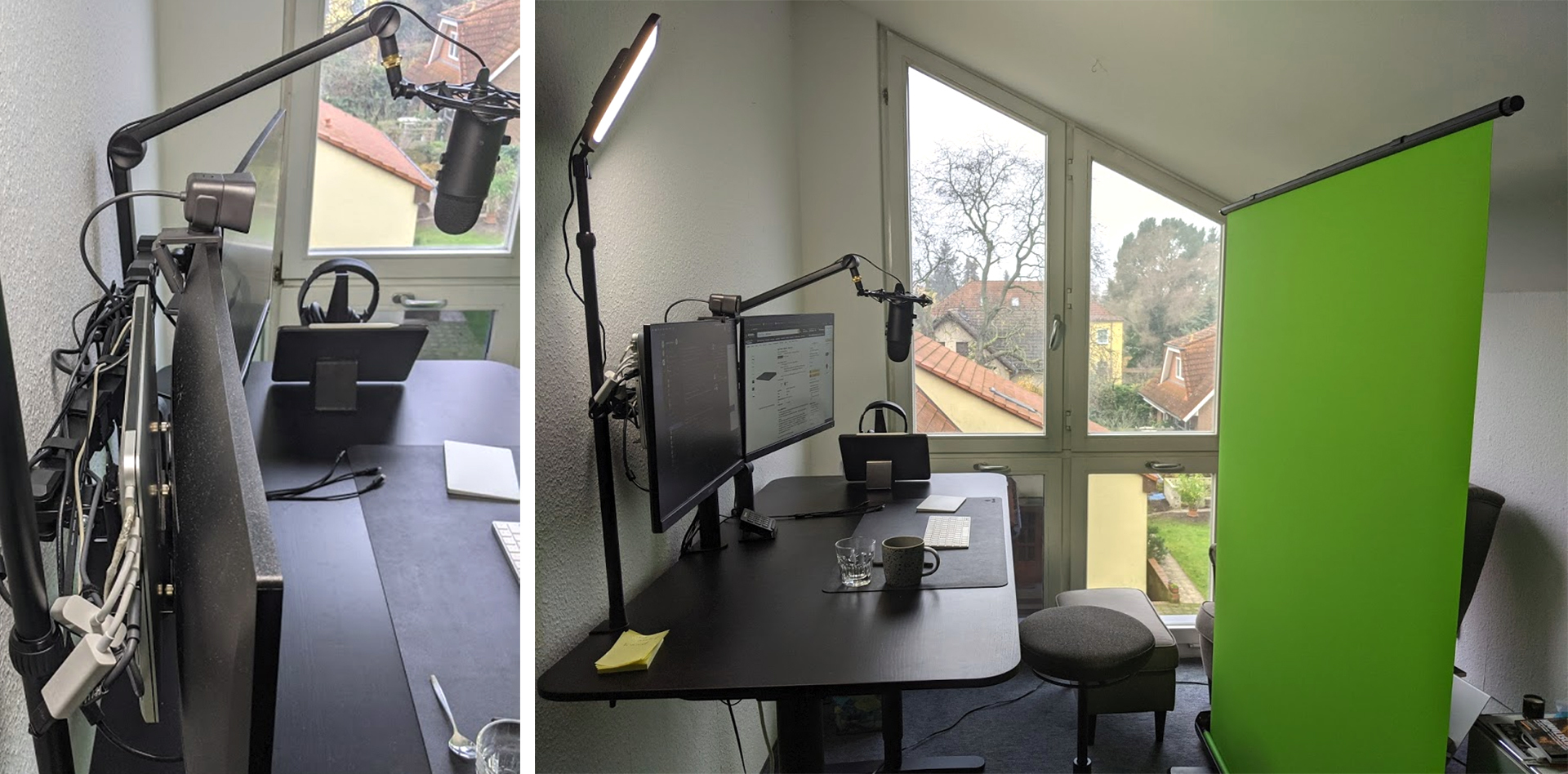 Standing desk (electric)
My choice: Ikea Bekant – Standing Desk
Top value4money – different sizes & colors available – I have the 160cm in black
I stand approx. 40% of the day – I do ALL calls standing! Should have gotten one earlier!
Great cable management (super important for a standing desk)
Heavily considered alternative: Eliot smart desk
My personal belief: NO ONE ever in the world delivered a great presentation sitting on a chair! You have to stand!
Seating
While I already had a proper office chair, I wanted to try something new and find something to pair with the standing desk.
My choice: Ikea Lidkullen Sit/StandSupport
I was skeptical at the beginning but I got used to it
My back feels really better (in combination with the desk)
I like how it is not visually overtaking the space and can be easily placed under the desk as well
Superb product quality for that price!!!
Heavily considered chair alternative: Hag Capisco
Screens
The first thing to unclutter your desk is to HIDE your laptop and use it in "clamshell mode" (this means closed). External screens increase efficiency and ergonomics.
My choice: I copied the Lufthansa Innovation Hub office setup (to make switching a breeze)
Webcam
If you keep your laptop closed, you obviously need to have an external camera. You can position it yourself while the laptop cam is NOT the best position. Make sure to get HD or better 4k!
My choice: Logitech Stream Cam
It has a USB-C, so I need an adapter
Great value 4 money – see amazon reviews!
Has 2 mics – also great sound advancement already
Great software included
Super easy and reliable!!! Plug & play!
Huge upgrade for "small" money
I am also playing around with using:
Lighting
The absolute game changer related to video quality is LIGHT!!!!!
My Choice: Elgato Keylight
Definitely worth the investment – CHECK EBAY KLEINANZEIGEN!
Great quality
Cool/gimmicky software that lets you use your mobile as a remote control
High re-selling value
New alternative: Elgato Ring Light. I consider switching to this one in the future depending on future camera setup and availability
Microphone
As stated above, I already had an improved mic with the new webcam but I couldn't resist a great eBay Kleinanzeigen deal. It really makes you "feel" professional although I cannot judge the sound quality yet.
My choice: Blue Yeticaster Pro
Great product quality & design
Supposed to have great sound quality – see reviews
Mic outlet if you need it
Generally, Blue Yeti is a great choice
Sound
To fully enjoy your home office, you need great sound!
My choices:
Headphones: ANC Bose
Speakers: will get 2 Sonos One soon (we have them throughout our apartment)
Peripherals
Do not underestimate this for health & efficiency! Try to find something that fits your needs & preferences.
My choices:
"Mouse" – Apple Trackpad

I recently wanted to test the trackpad to add it to my setup – but now it has COMPLETELY replaced my mouse! I definitely didn't expect that to happen!

Keyboard – Apple Magic Keyboard

This newer version has a built-in battery to charge (no need to change)

USB Hub

Because I have an "old" mac, I do not need the USB-C Station
But because of the different peripherals, I need more ports
DO NOT buy cheap! Otherwise, power will not be sufficient!

Elgato StreamDeck

Interesting product – see yourself! I use it every day and have customized it to different workflows

Elgato Green Screen

Yes, nerdy!! But I wanted to play around and got a great deal on eBay Kleinanzeigen – could resell it making a profit 😉
Great quality and handling!
Definitely needed if you try to do some "fancy" effects
Accessories
To make your "work-life" nicer & more functional, get some accessories. Choose them wisely to not clutter your space again.
My choices:
Software
To actually deliver powerful and visually appealing presentations, you need to experiment with different software.
The magic word is "virtual camera" software: mmhmm, OBS, or Logitech Capture create "cameras" that you can choose in the settings of your conference tool like Zoom or Teams (instead of your hardware camera)
My current favorite is mmhmm because of its fun approach and easy-to-use navigation. AND it is less "exhausting for my CPU & graphics!