If you have been reading our newsletter for a while, you know that we are big advocates of mobile apps by airlines that strive to offer more than just standard flight-booking and check-in functionalities. There are so many more traveler needs that airline apps should cater to.
Just think about all the irregularities that might occur during a trip from A to B, such as flight delays, cancellations or lost baggage. For all these events, digital (self-) assistance in the form of a well-functioning and comprehensive mobile app would be a lifesaver for air travelers – unless you enjoy waiting in line at the airport's service center for hours.
Travelers' mobile-app expectations are rising
Customers (not only Gen Z) will soon expect that their carrier is always digitally available, providing end-to-end support throughout every part of the journey. This includes booking a taxi ride from the airport to the hotel seamlessly in the given airline app – without having to research and download the travel destination's specific ride-hailing providers.
And it doesn't stop here. Why not offer travelers real-time currency information, as well as voice-based translation services through the airline app, so that the arrival in a foreign-country feels less frightening and chaotic? Unfortunately, most airline apps today are very restricted when it comes to their range of digital services. On top of that, many airline mobile apps are bug-heavy and require way too many clicks for straightforward requests, such as checking in for a flight as our Airline Digital Index shows.
Airline apps compete not only with one another
What many airlines don't seem to grasp yet: travelers don't set their mobile-app expectations according to other airlines, but by the convenience, efficiency and level of quality offered by the likes of Amazon and Uber. And compared to them, most airline apps can't keep up. The consequence: many of today's travelers avoid downloading airline apps in the first place – and those who do, are quickly turned off and rarely engage with them.
Talking about engagement, we recently stumbled across some very interesting data points published by HERE Mobility. They issued a trend report where they asked thousands of people in Europe and the US about the number of transportation apps they use on a regular basis.
Their definition of transportation contains everything from navigation to long-and short-distance travel, air travel, walking navigation, and trip planning – so a very comprehensive and broad scope.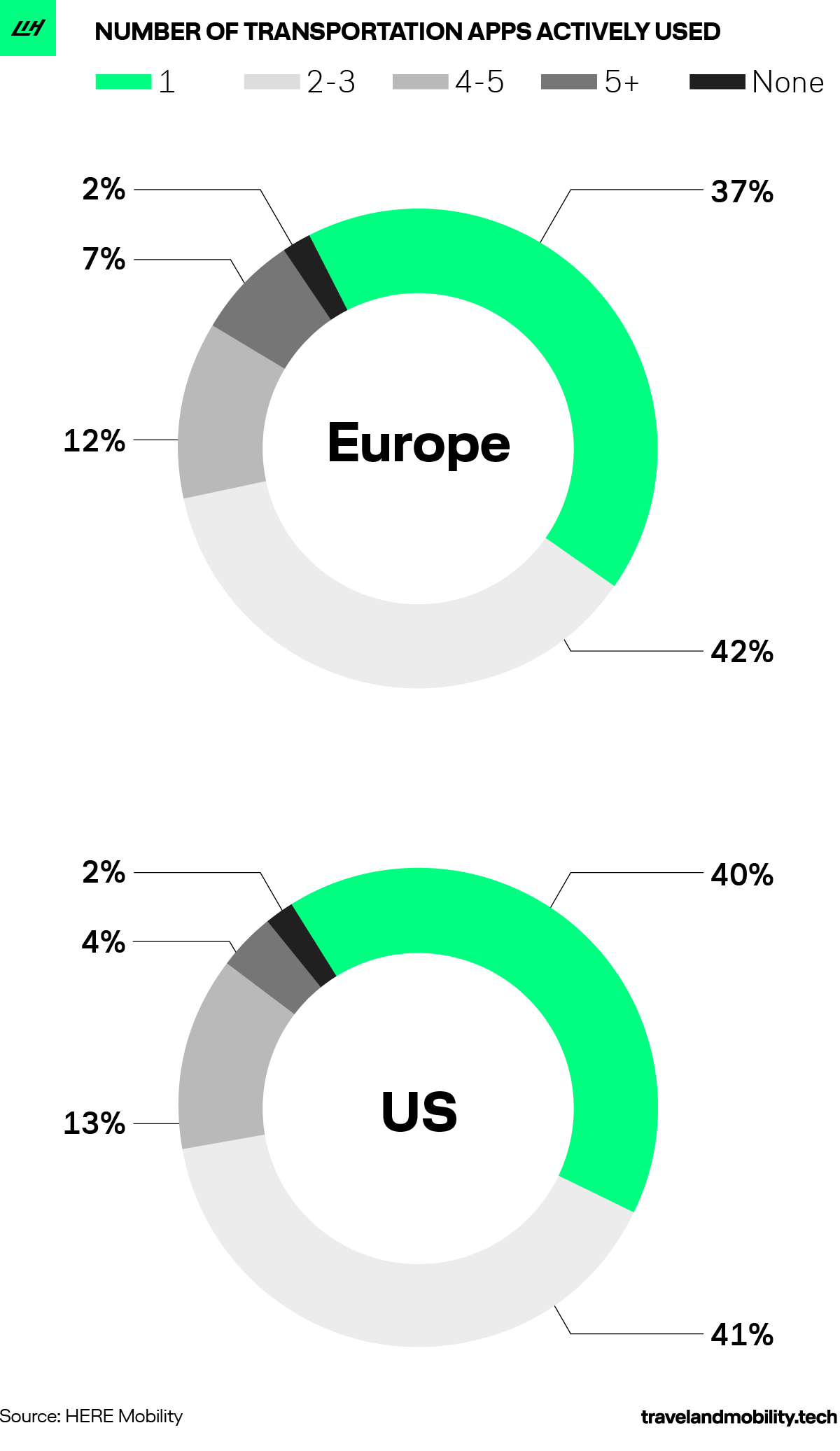 The survey results are intriguing:
The vast majority (around 80% in both Europe and the US) does not use more than three transportation apps regularly
Around 40% only use one transportation app at all
What does this mean? It's getting exceedingly hard for travel providers (including airlines) to make it onto people's smartphones. And becoming one of the very few transportation apps that are actually being used is even more challenging.
Additionally, competition within the transportation landscape is way fiercer than it used to be. There are more transportation mobile apps competing for people's attention than ever before. 
Airline apps have a particularly tough life
In contrast to ride-hailing and public-transportation apps, airline applications don't solve a daily core need for users, such as getting to and from work. Hence, app engagement for airlines is naturally lower as most people only use the app when taking a flight a couple of times per year.
To further strengthen this point, check out the relevance and engagement rates for more than a dozen leading Travel and Mobility Tech mobile apps.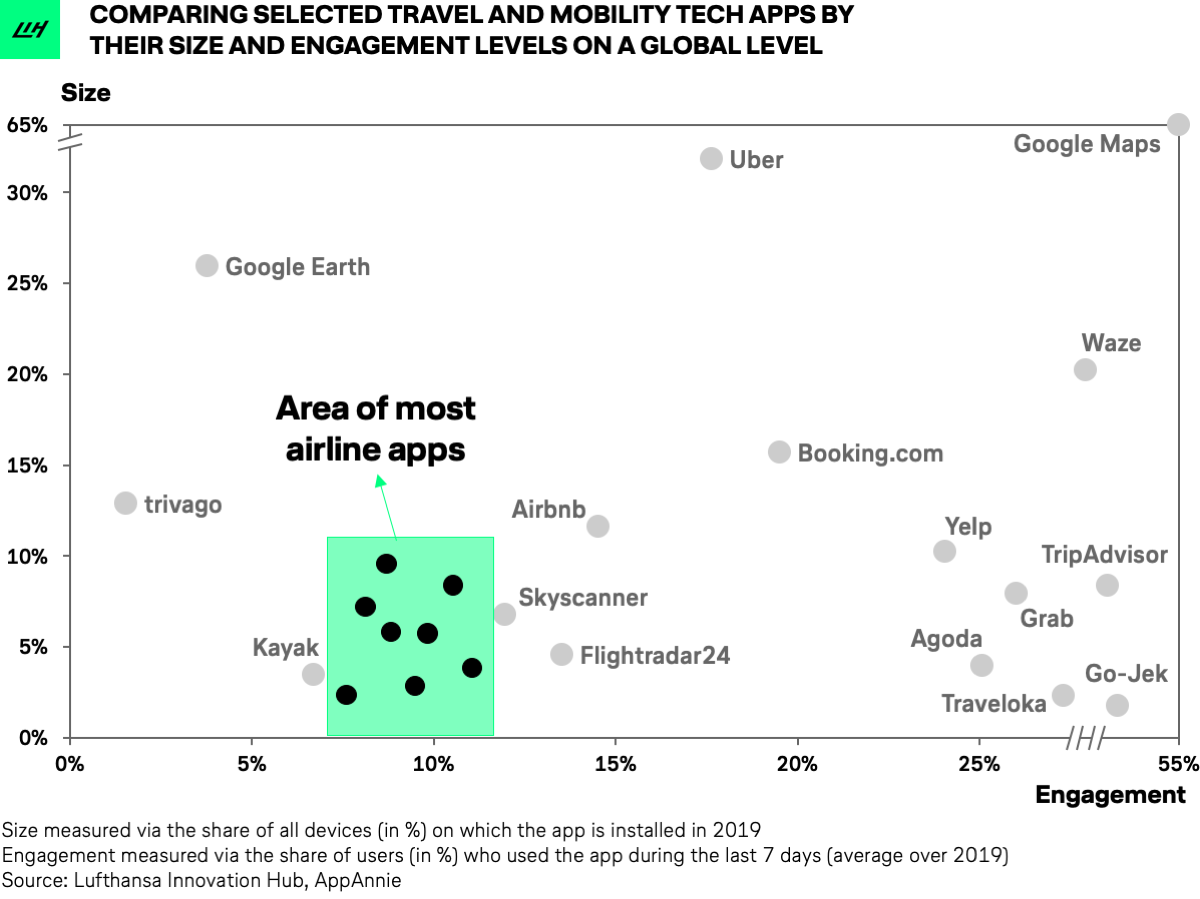 You can see that none of the major airline apps are able to attract the engagement rates (X-axis) and size levels (Y-axis) of leading transportation apps in our sector, such as Uber, Booking, Tripadvisor, Grab or Go-Jek. And navigation apps like Google Maps and Waze play in a totally different league.
The crucial question for airlines is: how to stay relevant? Our conviction is that airlines urgently need to expand beyond "just" flying to stay top of mind. Check out our chain of reasoning in more detail right here. 
This airline executive spotted the digital opportunity
One of the industry's most renowned innovators, JetBlue founder David Neeleman, seems to be jumping on exactly this digital opportunity by launching a new airline (after having co-founded Morris Air, Westjet, Azul, and Tap Portugal already in the past). The new carrier is called Breeze Airways and is supposed to resemble more of a tech company than a classic airline.
In a rare interview in 2018, Neeleman shared some initial thoughts on his latest endeavor, claiming Uber and Amazon would, indeed, be the role models for his new company, especially when it comes to consumer interaction. Neeleman's latest comments in a conversation with Skift this week go even one step further as he's planning to develop what he calls the most advanced mobile app in the airline industry.
"Anything you can imagine you needed to do, you could do on our app," he says. "You can change or cancel. Or order a filet mignon sandwich if you want. You can pick whatever you want."
Big plans! Let's see if Breeze is able to keep all those promises and deliver the type of digital airline that we believe can give a carrier a long-term competitive edge.